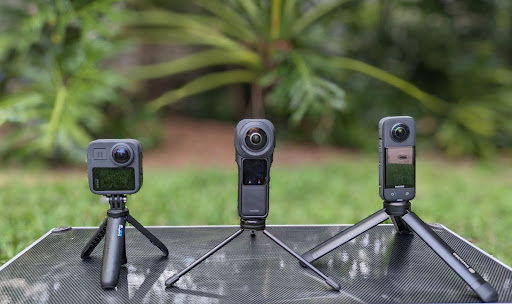 It's a new year, so it's time for a new camera review! We've had a few new entrants into the market from Insta 360; let's see if they can unseat the king of the hill, the GoPro Max. You've been tasked with creating a VR experience! Congratulations.  We can help. The first step is selecting the right camera for the job. As with any camera purchase, there are a lot of factors to consider.
4K video may seem high resolution for your TV, but when you divide it between two lenses and wrap it around all 360 degrees of a sphere, it's barely HD quality, so it really should be where you start. You'll always have the option of compressing it if you need to save space. And don't forget the quality of the optics themselves. High numbers for resolution sound great, but if the image doesn't start out sharp, it won't make any difference. Price is a factor in any purchase decision, and there is a bit of a range in the cameras we are looking at today.
For this review, we'll look at three leading 360 cameras, discuss their pros and cons, and look at the same pictures and video taken with each camera, with different lighting conditions to truly test their strength as shooters.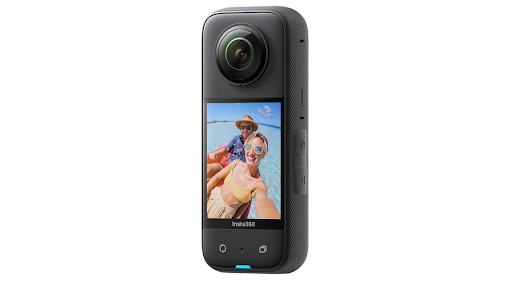 Insta 360 X3
✔  Can be used for standard and 360 shooting
✔  Waterproof to 10m
✔  11K Images!
✔  Pocketable form factor
The Insta 360 X3 has a lot going for it spec-wise, with 11K photos, up to 120 fps video, and waterproof. It also certainly has the best form factor of the cameras in the review, being easily pocketable. It now has a bigger screen and good on-screen controls, making it the most straightforward camera to use without the companion phone app.
The Insta 360 comes with 6-axis stabilization, which does a great job of smoothing out the bumps of moving the camera around without compromising the quality of your shot.
It has a pretty interesting feature called "bullet time," allowing you to swing the camera around above you and generate an effect you may remember from The Matrix, where the scene is in super slow motion, and the camera rotates around you.
Video Resolution: 5.7K at 30fps
Photo Resolution: 11K
Battery Life: 70 minutes
Price: $449 (Amazon)
Onboard Storage: None (requires Micro SD card, not included)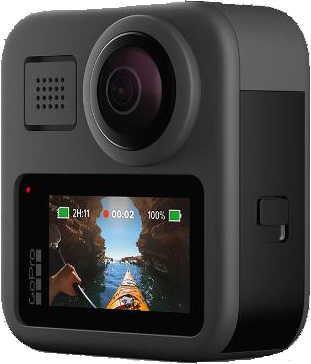 GoPro MAX
✔  Rugged, Waterproof to 5M
✔  Can be used for standard and 360
✔  Voice commands for shooting
✔  Hypersmooth Video Stabilization
The GoPro Max has been around for over three years now and is still holding its own.  It's slim, rugged, and waterproof down to 5 meters. Although it is required to have the desktop software to convert and stitch 360 videos together to get that single equirectangular file, images are stitched directly on the camera.
The GoPro Max may be showing its age in some areas, but it's still worth comparing to cameras that are just coming out in the industry today, which goes a long way to explaining why this has been the camera of choice for so long.
Video Resolution: 5.6K at 30fps
Photo Resolution: 5.7
Battery Life: 78 minutes
Price: $499.99 (Amazon)
Onboard Storage: None (requires Micro SD card, not included)
Insta 360 One RS One Inch Edition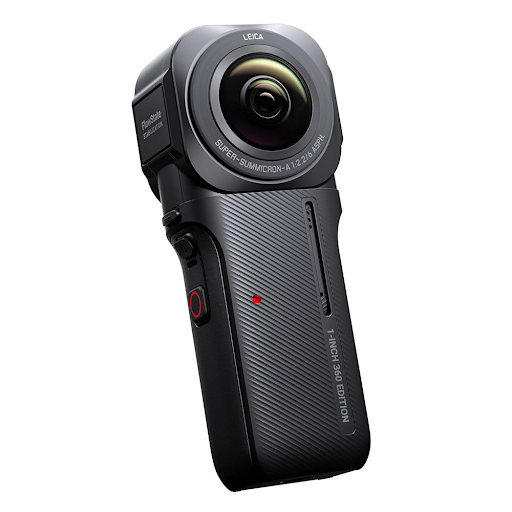 ✔  High Dynamic Range
✔  Excellent low light performance
✔Best Photo and Video Quality in this review
✖  Priciest camera in this review
✖  A bit heavy and bulky
This camera takes the crown for both the most unusual name and hardware configuration. Along with a name that takes an entire sentence to write, you get a camera that comes in three separate pieces, plus a plastic "sheath" that holds it all together. It took me a little while to figure out where I was supposed to insert the SD card. (hint, you need to detach both the lens unit and screen unit, the SD card slot is on the bottom of the screen unit)
That said, the one-inch sensor on this camera really makes all the difference. Photos and videos are crisper and brighter than any camera I've used. You can zoom in on details within the frame without getting too pixelated in the process.
It is listed as water resistant, but I would be very careful about getting this anywhere near water. The three piece design leads to many crevices that water would be able to seep into.
Video Resolution: 6K at 30fps
Photo Resolution: 6.5K
Battery Life: 62 minutes
Price: $799.00 (Amazon)
Onboard Storage: None (requires Micro SD card, not included)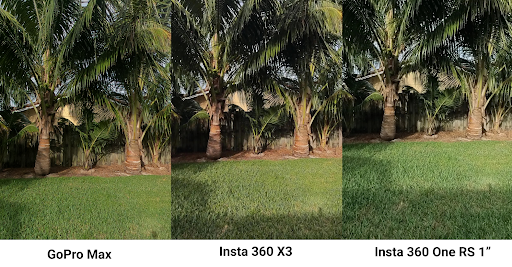 Let's go to the Photo Finish

With each camera, I took the exact same photos of several different situations, including full outdoor lighting, indoor lighting, and an abysmal lighting situation in an unlit room with the sun coming in a window. These scenarios should give a good comparison test as to how well the cameras will take pictures in multiple environments. I also filmed videos of multiple indoor and outdoor scenes to get a comparison of their video capabilities. Note that the pictures are clipped from a 3D rendered view of the entire 360 scene, so they are represented properly in this 2D view.
OUTDOOR, WELL-LIT
In well-lit shots, the three cameras all performed acceptably. Even zoomed in, the photos were relatively crisp. Interestingly, the One RS seemed to have washed-out colors compared to the other two cameras. I also expected to have much crisper photos from the X3, given its much higher resolution, but it proves that superior optics outweigh pixel count any day. Also, there was only a tiny difference between the X3 and the Max, which surprised me, given that the Max is over three years old now.
INDOOR, WELL-LIT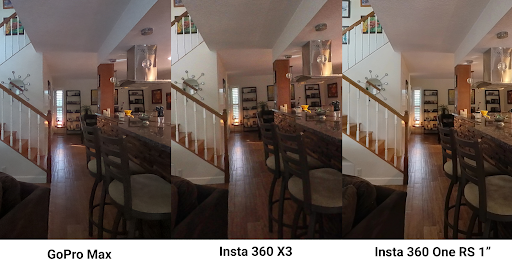 Indoor is where you really start to see the differences in the cameras. Although I had plenty of ambient lighting available in the room, there was a marked difference from the Max to the X3 to the One RS. As you can see from the clip above, The Max starts to struggle with defining things like the railings on the stairs and the floor tiles. Things get a bit blurry even fully zoomed out, and much more so when zoomed in. The X3 performed better in this situation, but the One RS certainly has a much brighter image with better colorization and clarity.
DIMLY LIT ROOM, BRIGHT WINDOWS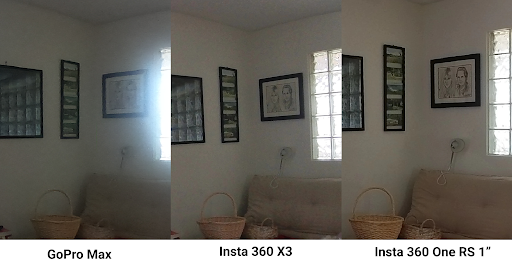 This is where the differences become extremely obvious. The GoPro Max image is completely overblown around the window, which causes image distortion throughout. The X3 does a better job of handling the light but is quite blurry in many areas. Surprisingly, The RS One dealt with this worst-case scenario pretty well with an image that, while not perfect, is acceptable. Hopefully, the images you use in your scenarios won't be this poorly lit, but it's good to know there's a camera that can handle just about any situation.

AND THE VIDEO?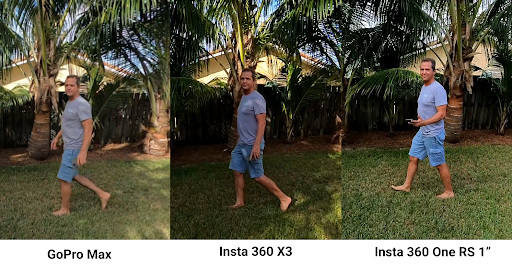 Video results were very similar. In this video, I was walking around the camera positioned on a tripod with outdoor lighting. The Max was a bit blurry, even in this well-lit shot. The X3 was crisper, but not as well-lit, while the One RS performed exceptionally well in the video's lighting, color, and sharpness.
PICKING THE RIGHT 360 CAMERA FOR YOUR SCENARIO
The GoPro Max was my "go-to" camera for many years, and it really was years ahead of its competition. The fact that it is more than three years old and still being compared to brand-new releases from Insta 360 proves that. However, at this time, if you are in need of a waterproof camera, I would say the Insta 360 X3 is the way to go. If you can get away without the waterproofing, The Insta 360 One RS 1 Inch is by far the best quality camera in the price range. While it has a few drawbacks - bulkier, not truly pocketable, and has an unusual configuration -t when it comes to quality images and video, it's the way to go. It's a bit pricier than the competition, but certainly worth it in the end.
Let's hope GoPro comes out with a "Max 2" that will change the game as much as the original Max did three years before.